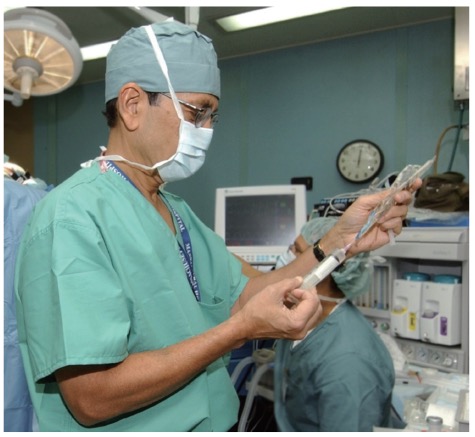 Download full-size image
Indian Ocean (April 19, 2005)—Dr. Akshay Dalal an anesthesiologist from the nongovernmental organization "Project HOPE", provides medication for an Indonesian patient as the medical team aboard the Military Sealift Command hospital ship USNS Mercy performs surgery during disaster relief efforts in the aftermath of the 2005 Nias–Simeulue earthquake. U.S. Navy photo by Photographer's Mate 2nd Class Jeffrey Russell. (Available at
https://commons.wikimedia.org/wiki/File:Anesthesiologist.jpg)
The World Health Organization classifies burnout as an occupational phenomenon (not a medical condition) in a May 2019 mental health issues advisory, which also updates its definition of the term. Burnout comprises three dimensions according to ICD-11:
● feelings of energy depletion or exhaustion;
● increased mental distance from one's job, or feelings of negativism or cynicism related to one's job; and
● reduced professional efficacy.1
WHO also there announces an imminent project to develop "evidence-based guidelines on mental well-being in the workplace".
Researchers have produced a vast literature on physician burnout over the past 40 years, and the problem appears to be worsening. (For purposes of this article, we deliberately concatenate physicians, other healthcare providers, and trainees or residents.) A group of leading US health care delivery organization CEOs deemed physician burnout "a public health crisis" in a 2017 report,2 while a 2019 editorial in The Lancet, highlighting the sudden cardiac death of a 32-year-old Beijing ophthalmologist, designated it "a global crisis".3
Global prevalences of physician burnout, as with those of occupational burnout generally, are challenging to estimate due to diverse and evolving definitions; because it is a largely private, subjective phenomenon which is socially stigmatized;4 and because of a paucity of information for low and middle income countries (LMICs) and for non-Western countries generally.3
While there are relatively few systematic investigatory studies on physician burnout specifically in anesthesiology,5 it is sometimes reported as having either the highest or among the highest burnout rates of any specialty.6-8 According to the 2019 Lancet editorial, presumably burnout-related physician sudden deaths and suicides "have not been uncommon" in Asia.3
Our basic search revealed one ambitious and comprehensive investigation into burnout among physicians and nurses in intensive care units among 16 Asian countries and regions: The Stress And Burnout in Asian ICUs Study (SABA).9 Since many anesthesiologists are intensivists and vice-versa, this brings us tantalizingly close to our central question: Given the relative lack of published data on burnout among anesthesiologists, and given the relative lack of published data on burnout among physicians in Asia, What can we say about burnout among anesthesiologists in Asia?
Primary of interest to us among their findings, SABA's authors reported that overall burnout levels in Asian ICUs are comparable to those in Western ICUs, and comparable to US physicians performing front-line medical care (family medicine, emergency medicine, and general internal medicine).
This basic conclusion delivers, on its face, at least some reason to speculate that some of the data on burnout in anesthesiology in the general (primarily US and Western) literature may likewise apply to anesthesiologists in Asia.
The 16 countries and regions SABA encompassed included some from each of the following global geographical divisions as defined by the World Bank Country and Lending Groups scheme:10 East Asia, Middle East, South Asia, and Southeast Asia. SABA found wide variation of burnout rates in the ICUs they sampled: the lowest in Bangladesh (34.6%), and the highest in Hong Kong (61.5%). High levels of burnout were found similarly in physicians and nurses. Surprisingly, perhaps, upper-middle income groups had higher rates, while both lower and higher income groups had lower rates of burnout.
This article continues in a sequel article to be published in our next issue, by extracting information specifically on burnout, sudden premature deaths, and suicides among anesthesiologists from many of the same countries and regions, where available, mostly from non-systematic, less comprehensive research reports and facts or opinions from other sources, such as the general media. It then attempts to bring everything together with some thoughts on the nature of burnout and wellness in anesthesia physicians and perioperative providers in Asia, suggests directions for future research, and contemplates strategies for taking better care of ourselves, each other, and our communities.
---
References
1

World Health Organization.

Burn-out an "occupational phenomenon": International Classification of Diseases.

2

Noseworthy J, Madara J, Cosgrove D, et al.

Physician burnout is a public health crisis: a message to our fellow healthcare CEOs.

Health Affairs Blog 2017.

3

The Lancet.

Physician burnout: a global crisis.

Lancet 2019;394:93.

4

Bou Malham P, Saucier G.

The conceptual link between social desirability and cultural normativity.

Int J Psychol 2016;51:474–480.

5

Sousa ARC, Mourão JIB.

Burnout in anesthesiology.

Braz J Anesthesiol (English Edition) 2018;68:507–517.

6

Wible P.

What I've learned from 1,298 doctor suicides.

7

Sanfilippo F, Noto A, Foresta G, et al.

Incidence and factors associated with burnout in anesthesiology: a systematic review.

Biomed Res Int 2017:8648925.

8

Downey GB, McDonald J, Downey RG.

Welfare of anaesthesia trainees survey.

Anaesth Intensive Care 2017;45:73–78.

9

See KC, Zhao MY, Nakataki E, et al.

Professional burnout among physicians and nurses in Asian intensive care units: a multinational survey.

Intensive Care Med 2018;44:2079–2090.

10

World Bank Country and Lending Groups―World Bank Data Help Desk.

The World Bank.