To the Editor,
Propofol backflow, caused by a lack of proper infusion set, can lead to accidental awareness during general anesthesia (AAGA) during total intravenous anesthesia (TIVA). Though anti-retrograde infusion sets can prevent most AAGA events,1 some studies still presented incidents of propofol backflow after anesthesiologists used the infusion set.2-5 Thus, we propose that the anesthesiologist's awareness on top of the proper infusion set is the key to preventing propofol backflow during TIVA. Herein, we reported a case of propofol backflow incident that was rescued by an anesthesiologist's vigilance.
A 62-year-old man with a height of 176 cm and with a weight of 74 kg was diagnosed with pituitary pars intermedia dysfunction with cerebrospinal fluid seeding, WHO grade 2, and was scheduled for removal of T8–T12 intra-dura spinal tumor. He had no previous anesthesia-related problems. Anesthesia was induced with 2% lidocaine 100 mg, target-controlled infusion (Fresenius Orchestra Primea; Fresenius Kabi AG, Bad Homburg, Germany) using propofol and remifentanil at an effect-site concentration of 4.0 mcg/mL and 2.0 ng/mL respectively. Rocuronium 50 mg was injected to facilitate intubation. After general induction, during the 10-minute process of arterial line placement on the left radial artery, an anesthesiologist noticed the value of entropy was around 70–85 (Figure 1A). At the same time, propofol was retrograded into the normal saline bottle, resulting from a positive pressure caused by compression of the propofol infusion line during arterial line cannulation (Figure 1B). Since the anesthesiologist was alerted in time, propofol backflow was corrected immediately. After the correction, the entropy value was decreased to 20–30 with a burst suppression ratio of 4% (Figure 1A). The duration of the operation was 4 hours, and the patient recovered well without AAGA postoperatively.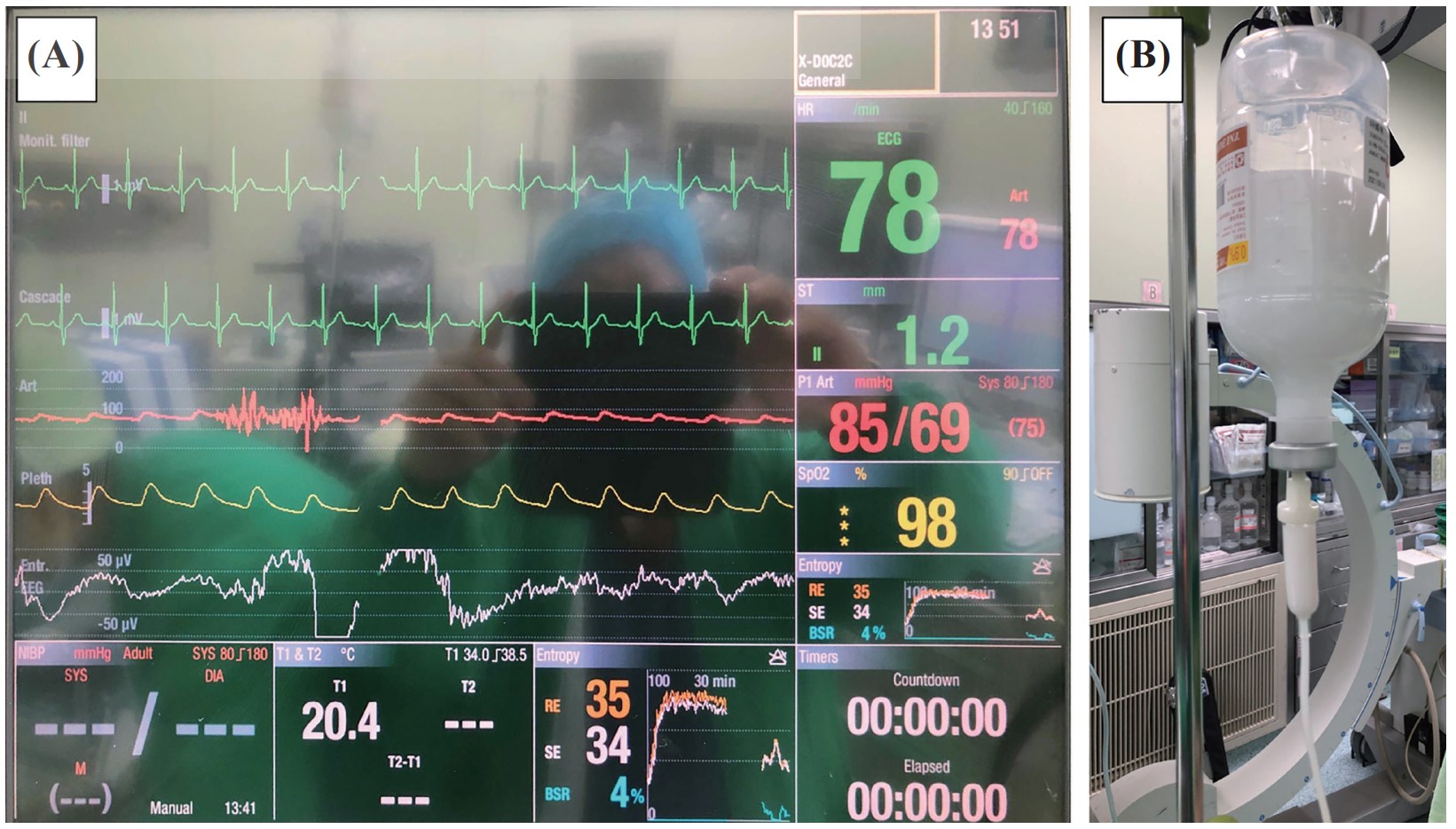 Download full-size image
Fig. 1. Intraoperative Entropy Indices (A) and Backflow of Propofol (B)
The entropy indices (state entropy [SE] and response entropy [RE]) showed 70–85 about 10 minutes, and the indices reduced to 30–40 with a burst suppression ratio of 4% after a bolus of backflow propofol (A). The backflow propofol was reflux into the normal saline bottle (B).
Crosby2 and Rutherford and Patri3 reported cases of a retrograde flow of propofol during operations resulting from anti-reflux valve dysfunctions. Though infusion sets can prevent backflow of infusion, Ellger et al.6 stated that 40% of the tested non-return valves found leaks as pressure built up. Therefore, constant awareness is critical in addition to infusion sets. In our case, the incidence of propofol backflow was rescued by the anesthesiologist's awareness, suggesting the importance of regular checkups.
Herein, we propose that periodical inspection of cannula sites is required for early discovery of problems with drug infusion in addition to an anti-retrograde TIVA infusion set. The anesthesiologists' alertness with a proper TIVA infusion set minimizes AAGA and optimizes the safety practice of TIVA.
Author Contributions
All authors contributed equally to the manuscript and read and approved the final version of the manuscript.
Conflict of Interest
The authors certify that there is no conflict of interest with any financial organization regarding the material discussed in the manuscript. The authors report no involvement in the research by the sponsor that could have influenced the outcome of this work.
---
References
1

Lai HC, Huang YH, Chen JY, et al.

Safe practice of total intravenous anesthesia with target-controlled infusion in Taiwan: a recommendation.

Asian J Anesthesiol. 2021;59(4):123-134.

2

Crosby E.

Intravenous infusions and one-way valves.

Can J Anaesth. 1991;38(6):799-800.

3

Rutherford J, Patri M.

Failure of antireflux valve in a Vygon PCA set.

Anaesthesia. 2004;59(5):511-512.

4

Powell J, El-Boghdadly K, Dasey N.

Leaking Vygon Cardiff anti-reflux valve.

Anaesthesia. 2015;70(2):238-239.

5

Daga V, Angadi SP.

Failure of intravenous cannula one-way valve.

Anaesthesia. 2012;67(1):82-83.

6

Ellger B, Kiski D, Diem E, et al.

Non-return valves do not prevent backflow and bacterial contamination of intravenous infusions.

J Hosp Infect. 2011;78(1):31-35.